If you are building your first home, or considering a renovation, you might be already wondering what to do to create an ideal space. One of the main contributors to the overall mood and ambiance of your rooms will be the amount of light inside them. The most obvious way in which you can improve natural lighting in your home is to have more windows. The question is, how many windows do you need to properly light up your interiors? Let's find out.
What Are the Factors that You Should Consider When Choosing the Number of Windows for a Room?
There are a number of factors you should consider when making the decision as to how many windows your rooms should have. The most important are:
Consider the view – walk outside your property and determine where the best view is, this should determine where and how many windows and roof windows you should have, especially if you value great views.
Take furniture placement into account – to judge how many windows a room should have, you'll need to take into consideration the placement of furniture. If you want a lot of furniture and a lot of light, you might want to consider adding a few extension roof windows.
Consider your lifestyle – if you prefer to sleep in late, consider adding fewer windows. We also recommend for the majority of windows to be placed on the north wall.
Take future home buyers into account – houses with more quality windows tend to sell better than those that don't have access to a lot of natural light are less desirable.
Do you prefer natural sunlight over artificial light? – if you like a lot of sunlight to enter your room, this might lead to you wanting more windows in your spaces.

Size of the Windows Matters
Whether your rooms are tiny or you are an owner of huge multi-use space, natural light plays a vital part in creating the right atmosphere in your house. To be able to maximize on the amount of natural light your room is getting, the window space should make up about 20% of the total room size (that accounts for all types of windows including roof windows). If there is a lot of artwork or photos that you would like to see on your walls, traditional windows can get in the way. However, you can choose the unconventional way and instal a skylight or a roof window. You can then really make the most of the space you have available. Keep in mind that Optilight roof windows as well as Velux roof windows come in a variety of different sizes, so you can adjust your roof window sizes to your personal needs.
Take Advantage of Directional Light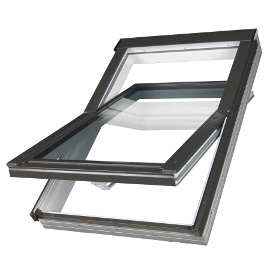 To optimize on the amount of light you can have inside your home, consider the function of each and every room and when you'll be using it and compare it with the direction your home faces. Positioning a roof window beneath the sun when you will be using a certain room lets you take advantage of the natural light.
North-facing spaces typically have a colder, more neutral light throughout the day. Southfacing rooms can benefit from warm light all day long. East-facing rooms experience the light at its brightest first thing in the morning, while west-facing rooms get long shadows and warm light in the late afternoon.
Use Your Ceiling Space with a Skylight
When choosing the space for windows, most people forget to look up at their ceilings. Roof space is of high value when you're looking to maximize on natural light. Quality skylights can offer you three times more natural light than standard windows. Roof windows and skylights also allow you to reduce the amount of electric lights you will need in your rooms. Every house is unique, but roof windows and skylights come in a variety of sizes which will for sure meet your exact requirements.
Final Thoughts
The number of windows you should have in your rooms will depend on the possibilities of your property and your personal requirements. Follow the advice regarding the number, size and placement of windows given in this article, and you will be satisfied with the outcome